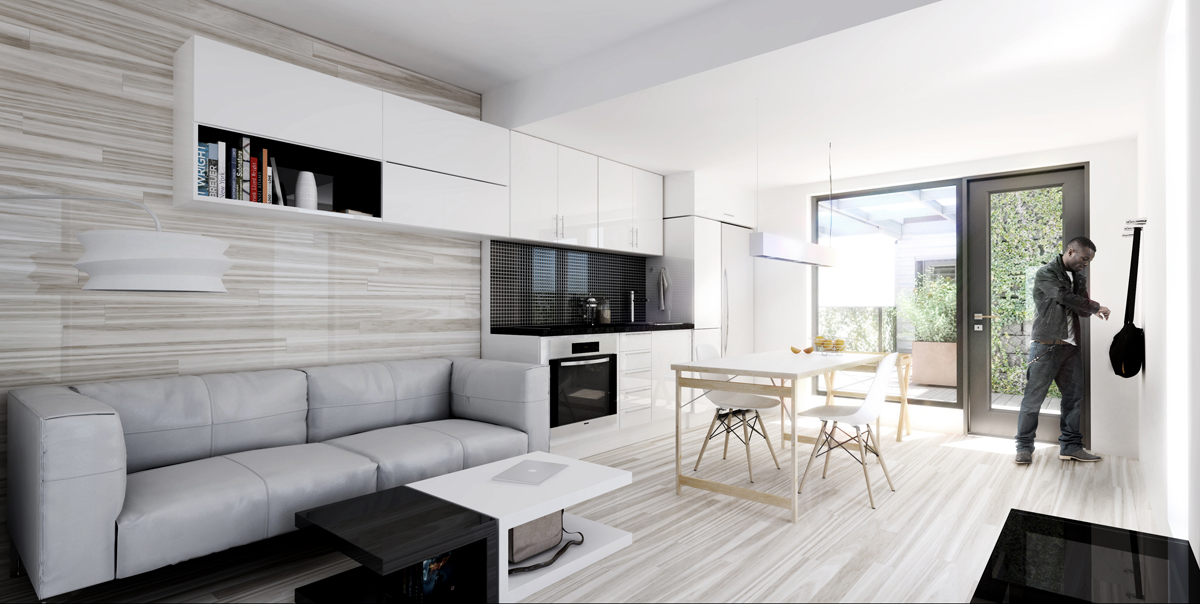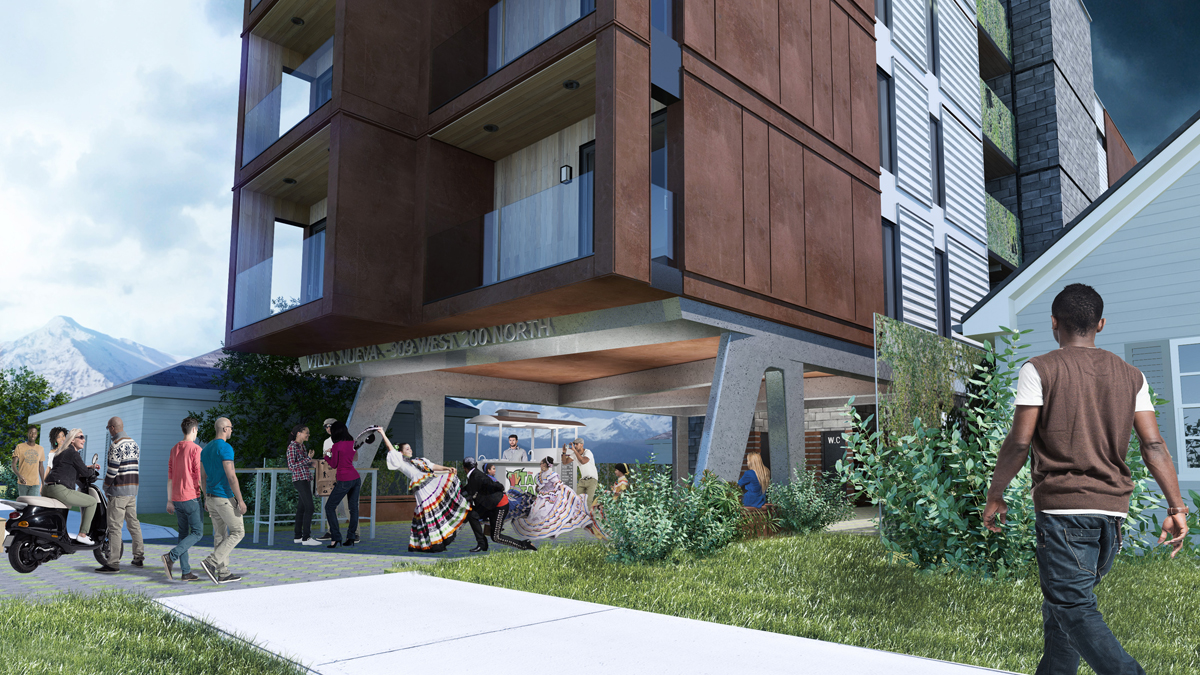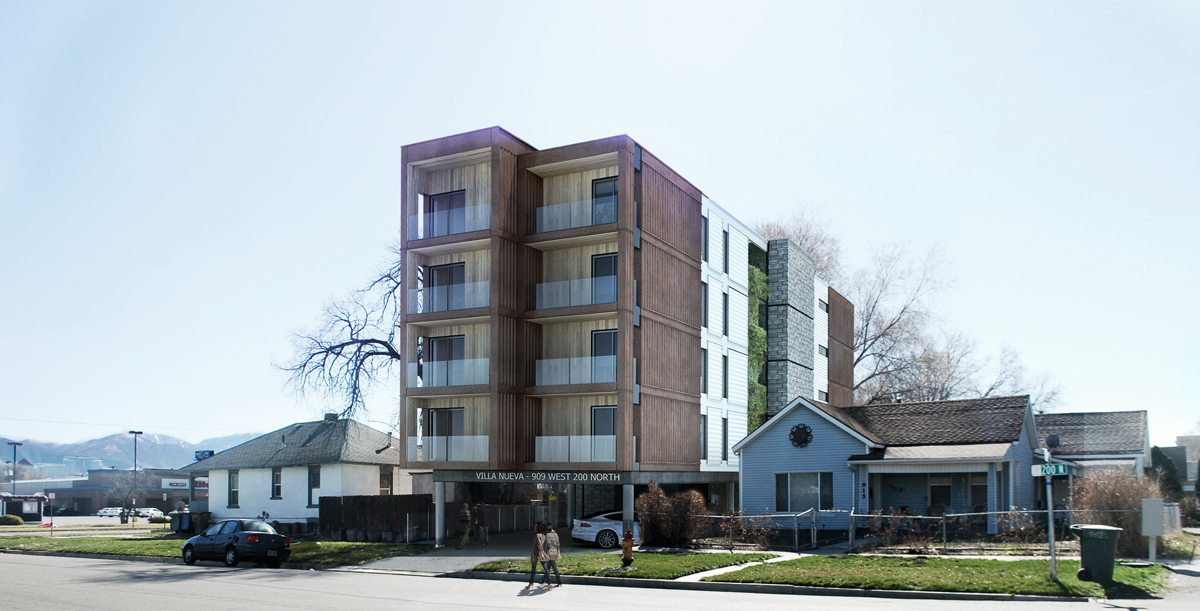 VillaNueva
Looking for a contractor to build on our site in Salt Lake City
A fourty-unit, studio and one-bedroom rental community near downtown Salt Lake City is planned. VillaNueva is a living laboratory in deep ecology, with roots in the cohousing, sustainability, minimalist, and tiny house movements. Plans for occupancy Summer 2018 are delayed as negotiations for a contractor continue.
The intent of the project is to leverage the transit-oriented location with naturally affordable building practices, to achieve rents that are below average for new construction in the area.
Architects: Cargo Architecture, Quebec City, Quebec, Canada
Nichols Naylor Architects, Salt Lake City, Utah, USA
VillaNueva will be a transit oriented community located at the Salt Lake City Jackson/Euclid light rail station area, between the airport and downtown. The North Temple commuter rail station, serving the north and south Wasatch Front, is 1/2 miles away. Bike, walk, or take transit to most downtown destinations in under a half hour, on level terrain.
VillaNueva capitalizes on the already vibrant street scene of this west valley neighborhood.
Open-air community patios link units per floor to the stairwells, encouraging social interaction and community gardening. Four skydeck patios are planned: possibly a hot tub, barbecue, ping pong, and lounge floor.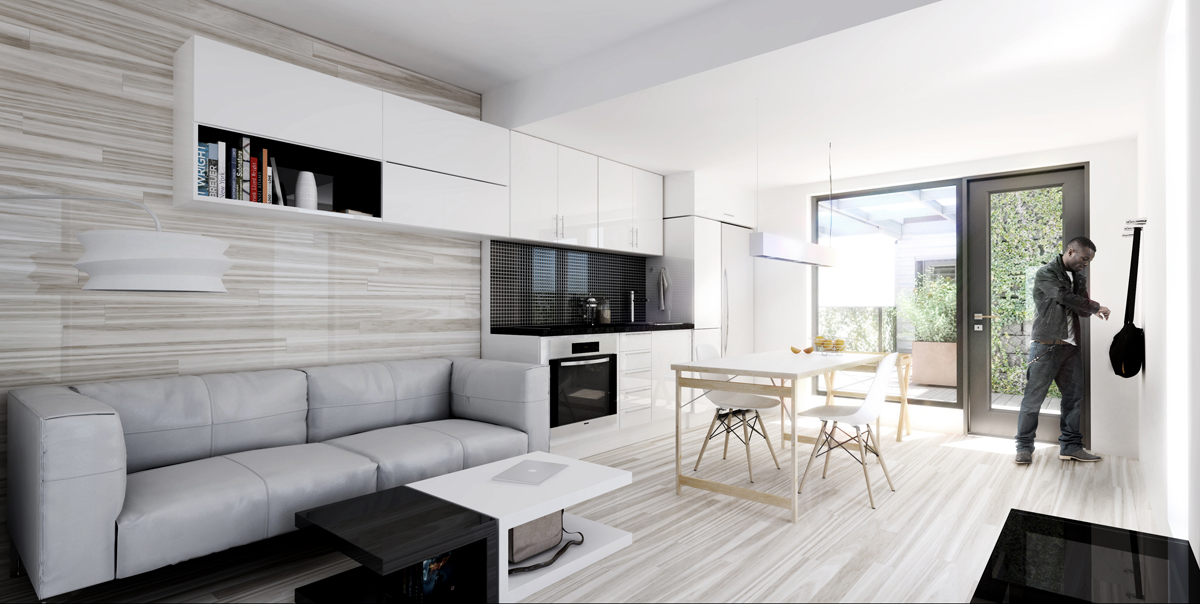 Interiors are planned for maximum efficiency in these 420-square-foot units. The kitchens feature a 2-burner stove, full wall oven, European counter-depth refrigerator, full pantry, and additional cabinet space. Views to the community skybridge can be open for interaction, or blocked by window shades.
Pocket doors create three separate spaces: an entry kitchen/living room, a middle bathroom/dressing room with 80 linear feet of closet space and a washer/dryer, and a private bedroom.
Bedrooms feature a queen bed, with added above- and below-bed storage, and an adjoining private patio.
VillaNueva has limited parking. Envision a new lifestyle using alternative modes of transportation like walking, bicycling, scootering, transit, ridesharing, and carsharing with your like-minded neighbors.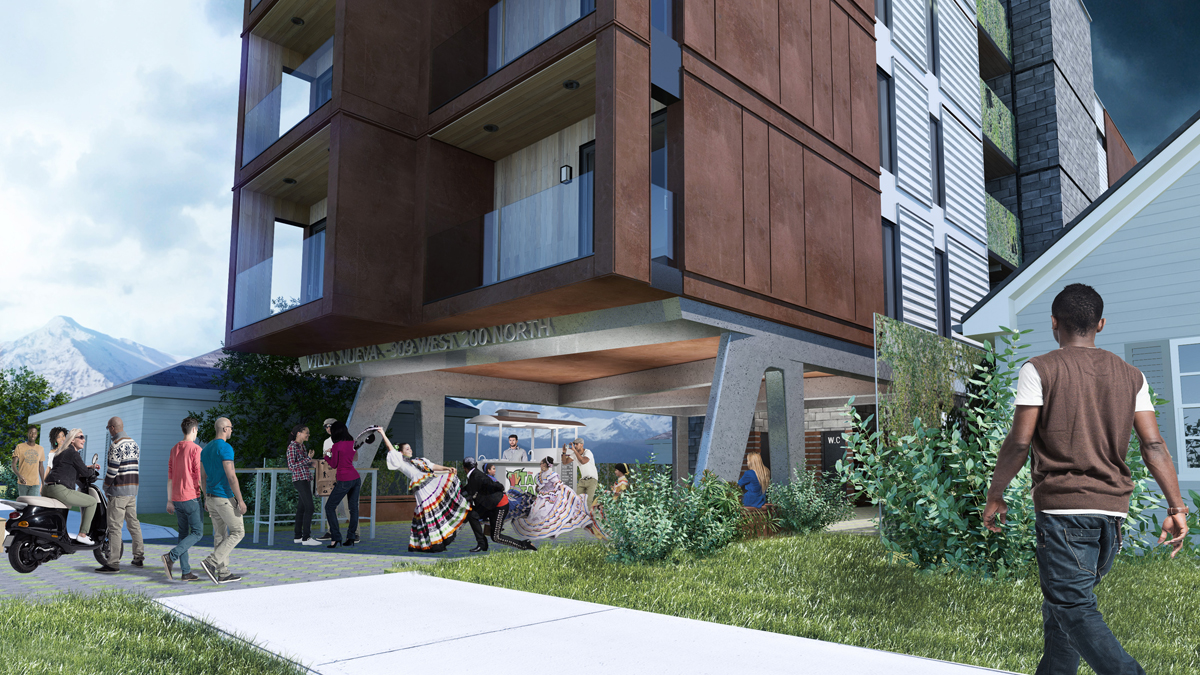 Join us in engaging the community! Check back for neighborhood events.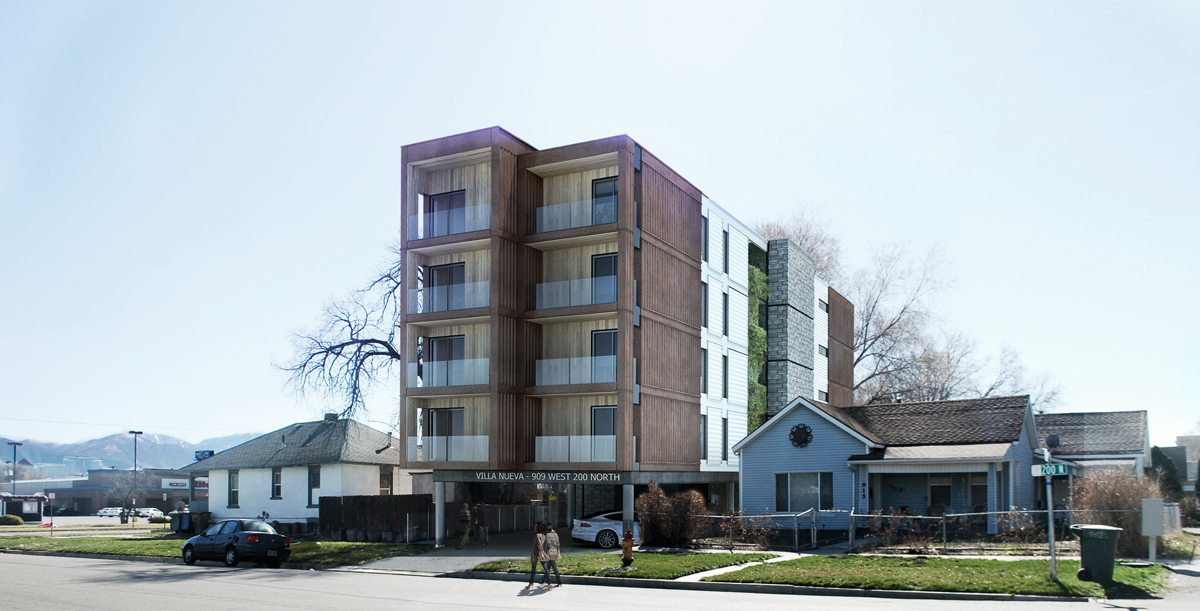 VillaNueva celebrates things to come. Convenient to the airport, the Jackson/Euclid TRAX station area has the potential to become a vibrant cultural area supporting Salt Lake City downtown. Join us in inspiring our neighborhood rebirth!
Although artist renderings depict a 12-unit building, the blue house to the right has been acquired by the developer and will be demolished to accommodate 16 additional units.
VillaNueva design investigates the possibility of transforming neighborhoods without the negative effects of gentrification. Land use, construction time, and overall neighborhood disruption are minimized. Can unbuildable lots become naturally-affordable, livable housing?
Modular construction affords minimal site work. On-site construction begins and ends with a single season, minimizing neighborhood disruption.